The Forever Forest: Kids Save a Tropical Treasure,
by Kristin Joy Pratt-Serafini and Rachel Crandell
ISBN 978-1-58469-101-3 $16.95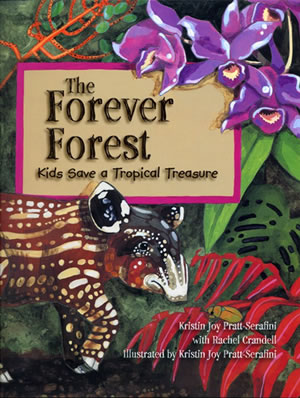 The Children's Eternal Rainforest in Costa Rica is a great place to hear howler monkeys, see algae-covered sloths, and discover that strangler fig trees make great hideouts. Join young Peter on a hike through this inspiring forest - a rainforest that has been preserved forever by the efforts of children all over the world.
Anna and her son Peter come all the way from Sweden to Costa Rica for a visit to the forest she helped to save when she was a little girl. Walk with Anna and Peter from Dwight and Rachel's cabin through the forest to learn about the amazing biodiversity of this special place. You will be transported to a magical realm, but it is real and full of wildlife!
Discover from the sidebars little known details about the tropical plants and animals that "people" this realm. Learn about the history of the inspired children who began this effort in 1987 that has grown to a worldwide effort and created the largest private reserve in Central America, the Children's Eternal Rainforest (El Bosque Eterno de los Niños (BEN). Find how to locate the BEN on Google Earth, and what other books and websites can expand your knowledge of the rainforest. The Forever Forest will open a window onto the rainforest for all who read it, and maybe inspire some to action!
"Never let anyone tell you that you can't change the world. For the creatures that call the Children's Eternal Rainforest HOME, the children who saved that forest made the difference between life and death. I feel so grateful that Rachel Crandell and Kristin Joy Pratt have finally told the story of El Bosque Eterno de los Niños - a testament to the power of children."
Lynne Cherry, author of The Great Kapok Tree.
To Purchase
Please send $16.95 plus $2 shipping.
All proceeds go to protect and extend the Children's Eternal Rainforest. To order your copy directly from Rachel please mail your check for $18.95 made out to:
"Monteverde Conservation League US" or "MCLUS"
1128 Weidman Rd.
Town and Country, MO 63017
If you'd like an autographed copy, please include the name of the person the book is for. The Forever Forest is also available at bookstores, Amazon.com, and from Dawn Publications. However, their profits do not go directly to the forest. Mine do. They are in business, and I am in the business of forest.