Maya Centre Village Scholarship Fund for High School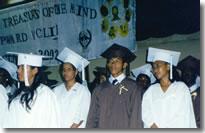 In 1994 no children from Maya Centre, Belize were continuing on past the 8th grade. Some were not even attending the last year of the village school because it was preparation for the Secondary Entrance Exam and they had no hope of attending high school at about $500/year. Many fathers were subsistence farmers and provided for their families largely outside of the cash economy. The government's primary school budget was only $.50 per student per year!
My husband and I learned of the situation from the village school principal, Liberato Saqui, and offered to help with expenses if the children passed the entrance test. In 1995 three students were ready, and we sent them to Dangriga for high school. One of the boys continued all 4 years, graduated and returned to the village where he has been a teacher for the last 4 years.
Each year more students have passed the test and entered high school in Dangriga, the town about 45 minutes bus ride from the village. They must pay for tuition, books, lab fees, uniforms, and shoes which were unnecessary in the village school. I am happy to say that others have graduated and last year we helped eleven children. Fall 2002 saw 15 headed off to high school from Maya Centre.
I lived in Maya Centre for several months during my sabbatical. Results were great friendships, a deep appreciation for the Maya culture, and a recently published children's book, Hands of the Maya, published by Henry Holt Publishers in NY in 2002. All of my proceeds from the book have created the Maya Centre Scholarship Fund, but I have already spent all of that supporting the September 2002 enrollment. Ordering Hands of the Maya through my website connected to Amazon.com sends a "finder's fee" back to me which contributes to the scholarship fund.