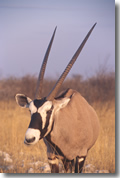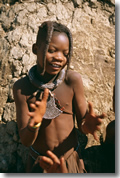 Trips >Namibia > October 2007

Namibia
October 9-21, 2007
14 days/13 nights
$4995 including airfare from US

Namibia is a country of primeval and unspoiled beauty in southwest Africa. It is a land of spectacular landscapes, rich treasures of wildlife, unique flora and indigenous people still practicing much of their traditional culture.

Namibia is a land of superlatives. You will experience an overflight of the Skeleton Coast of the Namib Desert, the oldest desert in the world with the highest sand dunes in the world, unparalleled viewing of African wildlife at Etosha National Park where animals congregate at major waterholes during the dry season, a visit to Damaraland, a vast rocky desert, a viewing of ancient petroglyphs left by the earliest inhabitants of this part of the continent at the Brandberg, an overnight at the Cheetah Conservation Fund site where we will be right up close with cheetahs, a meeting with the last of Namibia's endangered Cape Griffin Vultures at a rescue project, hiking on Waterburg Plateau high above the thorn savannah below, and return to Windhoek, the civilized, spotlessly clean capital with many reminders of its German colonial roots.

We will meet Himba people, pastoralists who wear very few clothes and cover themselves daily with a mixture of red ochre and butter, hence their nickname, the "Red People". We will meet biologists and conservationists who are working to protect the wildlife treasures in this corner of Africa. We will meet white farmers who raise cattle and trophy hunt.

We will go to places with names like Okahandja, Swapokmund, Khorixas, Kamanjab, Outjo, Okaukuejo, Halali, Namutoni, Tsumeb, Otjiwarongo.
Fun just to try to pronounce them! Etosha National Park is one of the major sanctuaries of wildlife in all of Africa. The park is 22,270 square kilometers. The savannah and scrub landscape provides excellent opportunities for wildlife viewing at the waterholes and in open countryside. We could see elephant, giraffe, zebra, lion, rhino, hyena, kudu, dikdik, springbok, ostrich, wildebeest, impala, hartebeest, cheetah, leopard, wart hog, meercat, aardwolf, secretary bird, koribustard, lilac rollers, hornbills and dozens of other species of birds.

The Himba people we will visit are carrying on their traditional lifestyle herding cattle and goats, little changed from the ways of their pastoralist ancestsors. The Himba are an extraordinary people who have resisted change and continue living their rich cultural heritage.
Required *
Or please print and mail registration to:
Rainforest Rachel
1128 Weidman Rd.
Town and Country, MO 63017
or Email: info@rainforestrachel.com with above info
To inquire by phone call 314-878-8427